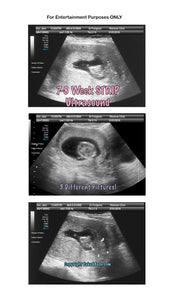 2D超声波

欢迎来到我们非常独特的"FakeUltrasounds™"。我们在Fakeababy.com创建并一直在销售此产品多年,很自豪地宣布新版本和更新!

2D FakeUltrasounds™在黑色和白色

很多方式来个性化假超声:

选择怀孕的阶段
弥补医生的名字(请不要真正的名字)
弥补医院或诊所(请不要真正的名字)
选择宝宝的性别

这么多有趣的方式 假的宝贝:

在评论部分添加一个有趣的笔记
假装个性化超声是学士学位,学士派对,生日派对甚至圣诞节噱头的最佳噱头!

每个订单都有至少2份!

新的!

现在你可以选择在一条三个略微不同的假超声图照片中拥有假超声!在一张纸上获得2份3个小照片,为5 x 7英寸。
像这样:

大多数订单同一天!

优先级和快递运输提供给您的跟踪号码!

现在提供快速运输和处理。


How long does FakeaBaby take to deliver my package?
We offer a many different delivery methods to choose from when you checkout.
Same Day Email Delivery! With or without physical shipping.
USPS FREE Shipping 3-10 Days!
USPS Priority Mail Shipping 2-5 Days!
USPS Express Mail Shipping 1-2 Days!
How much does shipping cost?
Your shopping cart will calculate the exact amount upon checkout. We have free options as well as overnight express!
Baby prank
This was the best idea pranking my husband because we already have three kids so I told him I was pregnant again and showed him to ultrasound he passed out and when he woke up he just kept saying no no more kids it was so funny we put it on our YouTube page and then I told him it was a joke so he made me take a real pregnancy test and he was like thank God this was a really good idea thank you guys a lot now I just started a prank war with my husband let the games begin
On SALE! Photo Strip Ultrasound! 3 Different Photos! Free Shipping!
It was so on point and did the job 😂 lol. I would definitely order again
Good baby shower prank game