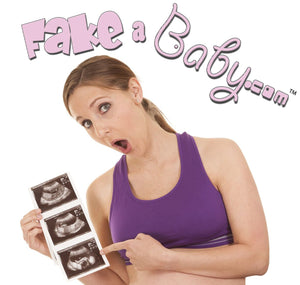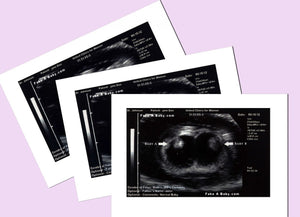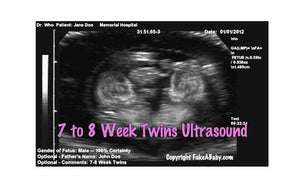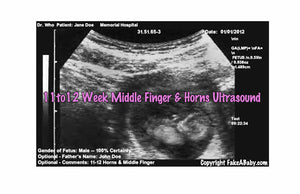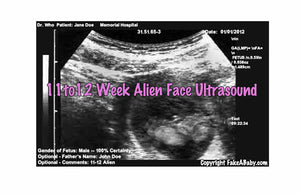 Customized 2D Ultrasound

3D Sonogram

NEW!

Tell us whatever you are thinking and our designers will make a special custom one of design just for you!

Now you can choose to have your Fake Ultrasound in a strip of three slightly different Fake Sonogram Photos!

Welcome to our VERY UNIQUE "FakeUltrasounds™". We at FakeABaby.com created and have been selling this product for many years and are proud to announce new versions and updates!

2D & 3D FAKEULTRASOUNDS™ in Color or Black & White

So many ways to personalize a fake ultrasound:

Choose the stage of pregnancy
Make up the Doctor's name (no real names please)
Make up the hospital or clinic (no real names please)
Choose the baby's gender
So many fun ways to fake a baby:

The baby can be an Alien or have Horns!
The baby can be naughty from the womb and be flipping you off!
Add a funny note in the Comments section
Fake Personalized Ultrasounds are the best gags for Bachelor, Bachelorette parties, Birthday Parties and even Christmas Gags!

Each order comes with at least 2 copies!

You can even choose the type of media for the fake ultrasound:

Normal Glossy – 3 copies (5x7)
Normal Glossy – 4 copies (3.5x2.5)
Plain Non Glossy – 3 copies (5x7)
Transparency – 3 copies (5x7)
Large White Matte Paper – 4 copies on 20x24 white sheet
NEW Giant Poster Size - 1 Copy

Now Offering A NEW Small Size For Your Refrigerator!

You get 4 copies!

4 copies (3.5x2.5) for Small Size

MOST ORDERS SHIP SAME DAY!

PRIORITY AND EXPRESS SHIPPING COMES WITH A TRACKING NUMBER EMAILED TO YOU!

Now offering EXPRESS shipping and processing.


How long does FakeaBaby take to deliver my package?
We offer a many different delivery methods to choose from when you checkout.
Same Day Email Delivery! With or without physical shipping.
USPS FREE Shipping 3-10 Days!
USPS Priority Mail Shipping 2-5 Days!
USPS Express Mail Shipping 1-2 Days!
How much does shipping cost?
Your shopping cart will calculate the exact amount upon checkout. We have free options as well as overnight express!
Best fake sonogram video ever!
I paid for a copy in mail online and got it the next day!