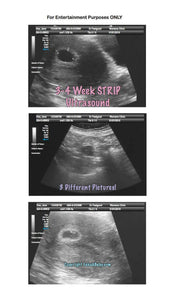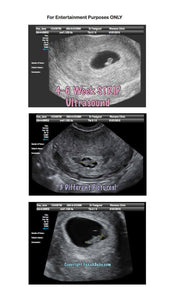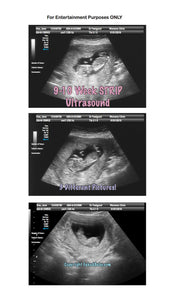 2D Ultrasound

Welcome to our VERY UNIQUE "FakeUltrasounds™". We at FakeABaby.com created and have been selling this product for many years and are proud to announce new versions and updates!

2D FAKEULTRASOUNDS™ in Black & White

So many ways to personalize a fake ultrasound:

Choose the stage of pregnancy
Make up the Doctor's name (no real names please)
Make up the hospital or clinic (no real names please)
Choose the baby's gender

So many fun ways to fake a baby:

Add a funny note in the Comments section
Fake Personalized Ultrasounds are the best gags for Bachelor, Bachelorette parties, Birthday Parties, and even Christmas Gags!

Each order comes with at least 2 copies!

NEW!

Now you can choose to have your Fake Ultrasound in a strip of three slightly different Fake Sonogram Photos! You get 2 copies of 3 small photos on one sheet that is 5 x 7 inches.

In the movies or influencer videos, every time somebody hands their partner a sonogram, it's supposed to be one of the most joyous moments of their life. They look at each other emotionally and shed a tear as they realize all their effort to bring a new life into this world has paid off. But if these couples weren't prepared to have a baby, the reaction would be slightly different. Sure, there'd be crying, but they might not exactly be tears of joy. And they'd something along the lines of "This is so unexpected," but the tone would be different. 
If you want to see how your partner, friends, and family would react to the "good news," you should get one of our super realistic fake sonograms. They make for the perfect gag to get a priceless reaction from your ill-prepared loved ones. And hey, if the reaction is happy, and you're ready for it, then it might be a sign to start trying. Either way, you know you'll get an unforgettable moment that'll either make you laugh every time. It also makes for a great gag gift for bachelorette and bachelor parties and brings some fun to birthdays and Christmas. 
To make the gag believable, this fake sonogram comes with 3 photos that show the progression of your non-existent child through a few weeks in 2D or 3D. For an extra strong reaction, you can opt to get a sonogram of triplets or twins. We love attention to detail so we include basically everything you get with an authentic sonogram, from the time stamps to gender. It also allows you to get your creative juices flowing. You can come up with a clever name for a fake doctor and hospital that's almost ridiculous enough to be real. And to finish it all off, you can add a hilarious note in the comments section.

MOST ORDERS SHIP SAME DAY!

PRIORITY AND EXPRESS SHIPPING COMES WITH A TRACKING NUMBER EMAILED TO YOU!

Now offering EXPRESS shipping and processing.

How long does FakeaBaby take to deliver my package?
We offer a many different delivery methods to choose from when you checkout.
Same Day Email Delivery! With or without physical shipping.
USPS FREE Shipping 3-10 Days!
USPS Priority Mail Shipping 2-5 Days!
USPS Express Mail Shipping 1-2 Days!
How much does shipping cost?
Your shopping cart will calculate the exact amount upon checkout. We have free options as well as overnight express!
Me encanto y resulto
Literal estuvo tan real me fascinó lo volveré hacer jeje
Customer Fake Ultrasound Sonogram — Prank your friends now!
Customer Fake Ultrasound Sonogram — Prank your friends now!
Customer Fake Ultrasound Sonogram — Prank your friends now!
Customer Fake Ultrasound Sonogram — Prank your friends now!