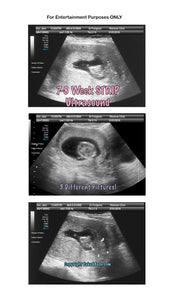 2D Ultrasound

Welcome to our VERY UNIQUE "FakeUltrasounds™". We at FakeABaby.com created and have been selling this product for many years and are proud to announce new versions and updates!

2D FAKEULTRASOUNDS™ in Black & White

So many ways to personalize a fake ultrasound:

Choose the stage of pregnancy
Make up the Doctor's name (no real names please)
Make up the hospital or clinic (no real names please)
Choose the baby's gender

So many fun ways to fake a baby:

Add a funny note in the Comments section
Fake Personalized Ultrasounds are the best gags for Bachelor, Bachelorette parties, Birthday Parties and even Christmas Gags!

Each order comes with at least 2 copies!

NEW!

Now you can choose to have your Fake Ultrasound in a strip of three slightly different Fake Sonogram Photos! You get 2 copies of 3 small photos on one sheet that is 5 x 7 inches.
Like this:

MOST ORDERS SHIP SAME DAY!

PRIORITY AND EXPRESS SHIPPING COMES WITH A TRACKING NUMBER EMAILED TO YOU!

Now offering EXPRESS shipping and processing.


How long does FakeaBaby take to deliver my package?
We offer a many different delivery methods to choose from when you checkout.
Same Day Email Delivery! With or without physical shipping.
USPS FREE Shipping 3-10 Days!
USPS Priority Mail Shipping 2-5 Days!
USPS Express Mail Shipping 1-2 Days!
How much does shipping cost?
Your shopping cart will calculate the exact amount upon checkout. We have free options as well as overnight express!
Baby prank
This was the best idea pranking my husband because we already have three kids so I told him I was pregnant again and showed him to ultrasound he passed out and when he woke up he just kept saying no no more kids it was so funny we put it on our YouTube page and then I told him it was a joke so he made me take a real pregnancy test and he was like thank God this was a really good idea thank you guys a lot now I just started a prank war with my husband let the games begin
On SALE! Photo Strip Ultrasound! 3 Different Photos! Free Shipping!
It was so on point and did the job 😂 lol. I would definitely order again
Good baby shower prank game