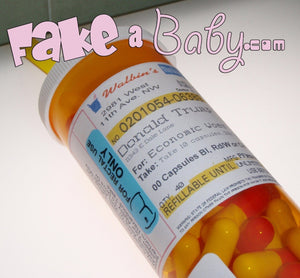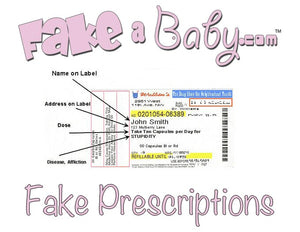 Fake "Drug" Prescriptions
Personalized, of course...
Did your significant other take their STUPID PILL Today?
A big, beefy bottle of big, beefy pills.... 
...to treat the most persistent of social afflictions...
Send a "gentle" message to an offending friend or co-worker.
This is the
best gag gift
for Bachelor and Bachelorette Parties!
Here is your Meds for being the BIGGEST BRIDEZILLA!
Here's your pills for that STD from the Bachelor Party Stripper!
Too Funny!!!!
IMPORTANT!
This product is designed as a gag, a joke, a humorous aside. We will not honor orders placed for "real" medications, or for fake medications which are not clearly and obviously a gag. For instance, we will not honor your order for "cancer treatment", or for "pre-natal vitamins", or for "muscle relaxer", AIDS Treatment, or any other real disease or affliction. This product is designed for absurd and ridiculous afflictions and treatments only -- such as "crankiness", "laziness", or "stupidity".
Should you use a real name of any medication or ailment we will not print it on your label. You will still receive the product minus that information.
MOST ORDERS SHIP SAME DAY!
PRIORITY AND EXPRESS SHIPPING COMES WITH A TRACKING NUMBER EMAILED TO YOU!
How long does FakeaBaby take to deliver my package?
We offer a many different delivery methods to choose from when you checkout.
Same Day Email Delivery! With or without physical shipping.
USPS FREE Shipping 3-10 Days!
USPS Priority Mail Shipping 2-5 Days!
USPS Express Mail Shipping 1-2 Days!
How much does shipping cost?
Your shopping cart will calculate the exact amount upon checkout. We have free options as well as overnight express!
Best gift for my borther! so many lols!
Best gift for my borther! so many lols!